I'd only ever made one trip to Hereford before yesterday, an FA Cup game three seasons ago when a Vale team managed by Martin Foyle, and including Mark Goodlad, Pilks, Sonner, Dan Whitaker, Sodje and Leon Constantine were given a hideous, relentless 90 minute pounding by a Hereford side a division below us. The game concluded at 4-0 to our hosts, but it could have been worse, a lot worse.

Yesterday I travelled with high expectations. As the train rattled its way into the West Country through Droitwich Spa, Worcester Foregate Street, Malvern Link, Great Malvern, Colwall, Ledbury and finally into Hereford I had plenty of time to reflect on a week that saw us register our first league win of the season, and more Carling Cup heroics – Sheffield Wednesday joining Sheff United on our list of conquests. These are positive times.

As the train pulls into Hereford I can see the floodlights of the ramshackle, dilapidated Edgar Street ground. I spurn the opportunity for a pre-match beer or two and make the short walk to the stadium. I love grounds like this, not pretty on the eye – not by any means – but a good old-fashioned venue with character and history. Give me this every time over the sanitised modern identikit stadia such as Northampton's Sixfields, or Shrewsbury's Pro-Star Stadium.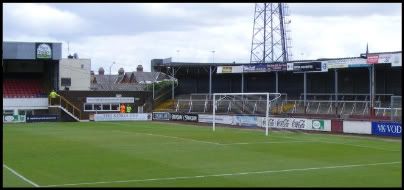 I'm hit with bad news as I enter the ground. Firstly, the draw for the 3rd round of The Carling Cup has been made. Have we hit the jackpot with a tie against one of the big Premiership teams, or even Stoke City? No. We haven't. We've got Scunthorpe away. No disrespect to Scunthorpe, but after battling through against The Blades and The Owls to get this far I expected the footballing Gods to be smiling down on us. No, I'm not best pleased with this at all.

The next piece of bad news comes shortly afterwards. The teams are announced over the tannoy and Kris Taylor is neither starting or on the bench. I'm immediately overcome with dread. Where is he? Our most impressive player so far this season, scorer of a wonder goal against Sheff Wednesday, why the hell isn't he with the team? He's only come to Vale Park on a short-term basis, surely he hasn't packed his bags already? Why didn't the Board offer him a proper contract? I get assurances from some of those around me that he picked up an injury, that's why he's not here. I also hear a worrying rumour that Sheff Wednesday have come in and snatched him away from us. I'm sure that this is complete nonsense, but nontheless I'm beginning to regret my decision to come here stone-cold sober.

Before the game kicks off a minute's silence for yet another tragic loss of a young life in Afganistan is impeccably observed from all parts of the ground.

And then we're away…

Vale hit the ground running and are instantly in charge of the game. Skipper Tommy Fraser and Doug Loft pull the strings in midfield, Marc Richards, Louis Dodds and Rob Taylor offer the threat around their penalty box. Attack after attack comes, corner after corner won. We're all standing on tip-toes, straining our necks to the left to keep up with the action. The atmosphere amongst the Vale fans is fantastic, all the songs ferociously chanted out. The football experience as it should be, standing up on the terraces, creating perpetual noise. We hit the bar twice with headers, but we can't find the net. Ex-striker Leon Constantine receives stick whenever he wanders anywhere near us, everytime he loses the ball, every mis-placed pass he makes is punctuated with a loud cheer from the Vale faithful. The first 25 minutes is all us but we have nothing to show for all our pressure. Hereford offer nothing, they're disorganised, disjointed, unimaginative, laboured and sloppy.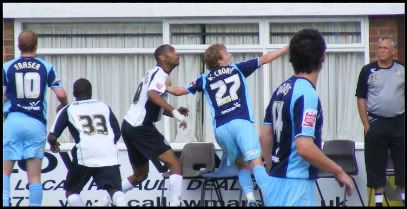 So when Hereford take the lead it's unjust and unfair. Their own fans seem to be in the same state of disbelief as we are. It's a well taken goal though, Marc Pugh taking possession of the ball on the left hand side of our penalty area, then cutting inside onto his right foot and firing an unstoppable shot past Chris Martin into the top left-hand corner of the net.

Our tempo and pace is momentarily lost, and Hereford begin to enjoy some possession. Half-time comes as a bit of a relief for us, an opportunity to re-group, a chance for Micky Adams to re-focus the troops.

The break dones us good and we come out for the second half all guns blazing. We find our voice again, the female liner the reciprocant of some cheeky banter. We take control on the pitch and justice is done with two goals in quick succession. Louis Dodds gives us the equaliser, finding himself in acres of space on the right and bearing down on the Hereford penalty area, then hitting a low drive to the keepers right. We are back in the game.

Rob Taylor gives us the lead, curling a beauty right into the top left-hand corner of the net. The jubilant noise that greets this is deafening, we are right on top of this game, three points is our only expectation. We must win this game now.




But it all goes depressingly Pete Tong. We can't find that third goal to kill the game off, and we are made to pay. Hereford break down the left, the winger easily – way too easily – evades a couple of challenges before storming into the box. An outstretched leg ends his run, the ref is right up with play and does not hesistate in awarding a penalty. Hereford take full advantage.

Adams makes changes, off go the goalscorers – Louis Dodds and Rob Taylor – and on come Geoff Horsfield and Claus Jorgensen in what may well be his last appearance in his short spell with Vale. The game sees one more chance of a goal come – it falls to Geoff Horsfield – the ball comes to him in the box, he cuts inside on to his weaker left foot and after a split-seconds hesitation The Hoss unleashes a tame shot that is gathered easily by the Hereford keeper. The final whistle is blown soon afterwards, Hereford are happier with the point than we are. All the threat we posed, all the possession we had, the final result is disappointing. Despite this the response from the fans is excellent, the players leaving the pitch to huge applause, a far cry from our last visit here and the seething anger and uncontrolled venom aimed at Martin Foyle and the players who had performed so abysmally.

I make my way back to the station with a tray of chips & gravy. Five games played, one win, three draws and one defeat. Grimsby next week is now a game that we really need to win.

Click here for images from the game…