Hopefully by the time Saturday comes the Board will have decided who, out of Dean Glover and Andy Porter, will be in charge of the team. I don't care if they are called 'Director of football', 'Head Coach' or even – and this may be a ridiculous notion – The Manager. The sooner we have it established who is actually going to be picking the team for the rest of the season the better it'll be for the Club, the players and The Fans.

For what its worth I'm backing Goober for the role of Manager. He's done some fantastic work with the Youth squad, and besides, Glover was given the opportunity twelve months ago and was deamed not good enough by the Board, why would they consider him good enough now?

After four consecutive defeats that have seen us plummet down the tableits time for a big shake-up for the team. We have a goalkeeper who's confidence is shattered, another goalkeeper who have conceded twelve goals in three senior appearances, a defence that creaks under the slightest pressure, a midfield bereft of the merest hint of creativity and strikers who are starved of any kind of service. We have wingers who can't cross a ball, and we have Kyle Perry & Chris Slater.

Whoever does eventually find themself charged with picking the team will need to be creative with his selection and tactics. How do we solve the issue of the centre midfield? Who should we be playing as full-backs?

For all the info on visiting Vale Park please click HERE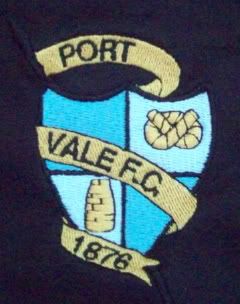 Whats Occuring…
Dean Glover has told The Sentinel that it'd be nice if the Board could sort themselves out and appoint either him or Porter as Manager, but knows it might still be a couple of weeks before it actually finally happens, but is happy to wait for that long even though he knows that it would benefit the Club if that decision could be made sooner rather than later. Quite right Dean.

Sam Stockley wants the Captain's armband back. Currently Marc Richards has that honour, but Stockley has told The Sentinel that he's prepared to fight to get it back. He's got respect amongst the players, see.

The Board have said precious little this week. Now there's a surprise.

Port Vale Team News:
Glover & Porter have virtually a full squad to choose from for Saturday, striker Steve Thompson is of course still unavailable through injury. Paul Edwards seems to be out of the loop completely, which is a shame because I think he could do a job for us at the moment on the left.

The big question is how they use the material they have. Is there anyone in the squad who could provide some craft in centre midfield? Could Louis Dodds take on that job?After all he's at his most potent when he's coming in behind the strikers rather than when he's out wide.

James Lawrie looked lively out on the right when he came on for the last twenty minutes against Gillingham, and certainly offered more than Shane Tudor who is just returning from injury.

And whats up with Rob Taylor ? Why is he so often overlooked? He's given us some spark and energy in the fleeting glimpses we've had of him, why has he not impressed the management?

Vital Port Vale line up:- Anyon(GK), Stockley(RB), McCombe(CH), Collins(CH), Edwards(LB), Tudor(RM), Griffith(CM), Dodds(CM), Taylor(LM), Richards(CF), Lawrie(CF)

Subs: Martin, Rodgers, Prosser, Richman, Howland.

For squad details please click HERE

Player to watch: Lee Collins…
Lee has been a fantastic signing for us, has impressed at left-back and was fantastic against Gillingham last weekend at centre-half. He's only with us until January, and we need to persuade him (and Wolves) to extend his loan spell until the end of the season.

Notts County Team News:
Paul Edgar – who runs the Notts County Fans website 'You Pies' has kindly answered some questions for us.

How do you feel about the start you have made to the season?

I am sort of happy with the start but 1 or 2 wins would of made it nicer. It is just the silly late goals we concede that is costing us but it is nice not to be losing these games.It was also nice to get the first win on Saturday.

What are your hopes and expectations for the season?

Well in August I would of said the play-offs were a minimum but then again every fans wants their team to win every game. If I was being serious top 10 would be nice, the last thing every Notts fans doesn't want is a relegation fight.

How close did you come to relegation last season?

Too close, we won our last home match against Wycombe 1-0 so it did not go to the last match like a few seasons before.

Which Pies players should Vale be looking out for?

You will have to wait until about 75 minutes to watch out for the in form Sean Canham, he is our supersub. The former Bath striker has come off the bench in our last three games and scored in two of them. Also Richard Butcher who was last seasons top scorer. He will never light a game up but always gets in the right positions to score goals.

What do you think the score will be?

I believe this will be a close game. I know you have had a poor start to the season but we have a habbit of letting sloppy goals in so I will go far a 1-1 draw in a scrappy game.

Cheers for that Paul.


Player to watch: Richard Butcher…
A goal scoring midfielder! What a luxury! Butcher already has four goals to his name this season, and last season he managed twelve from midfield. How much would we like to see a player like this in the Vale squad?
Current Form…
We all know how desperate our form is at the moment, having lost five of our opening eight games.

Notts County have racked up SIX draws in their opening eight games, and won their first game last week, a 2-1 victory over Aldershot. Naturally they are above us in the league.

Match Prediction:
Port Vale 1-1 Notts County Like Paul I can see this game ending up as a draw. Notts County are the draw specialists at the moment, and right now I'd be more than happy with a point.
Next Fixtures…
Sat 11th October Shrewsury Town (A) 3pm

The Shrews are looking the business at the moment, and are currently third in the league with 17 points. It'll also be a chance to for us to meet up with our old friend Dave Hibbert…

Sun 19th October Chester (A) 12 noon

Surely we cannot lose to Chester…